Follow the best art news, events, galleries & artists
| | |
| --- | --- |
| Posted on 26 April, 2021 at 14:55 | |
PRESS RELEASE
BIENNALE WYNWOOD FIRST EDITION AWARD CEREMONY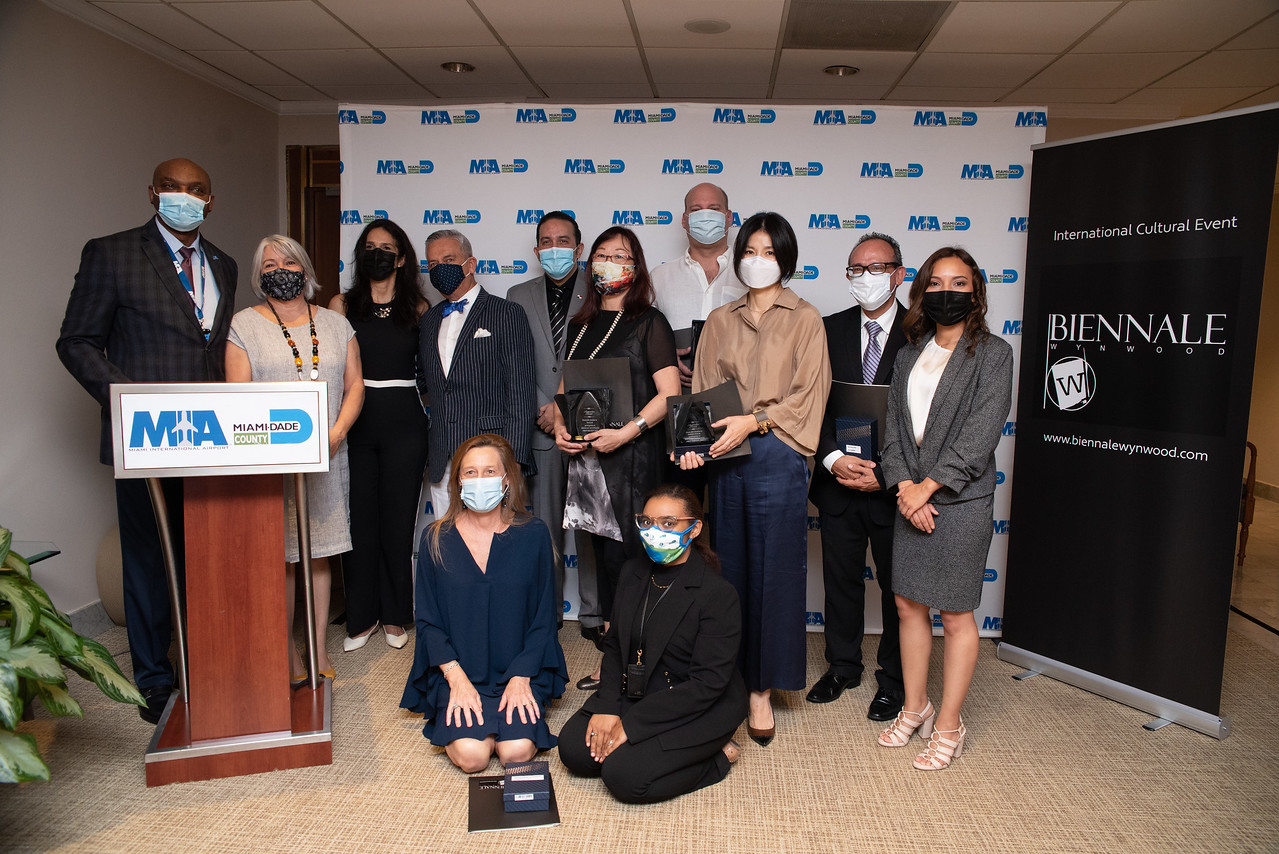 Biennale Wynwood held the first edition Award Ceremony last Tuesday, April 20th, 2021 at 2:00 PM in the Consular Lounge at Miami International Airport. Artists and its diplomatic representatives from Colombia, Panama, Holland, Hungary, France, and South Korea were invited to the ceremony.
It was a source of great satisfaction for the Biennale Wynwood committee and for the artistic and cultural sectors of Miami Dade county to have distinguished diplomatic presence in the award ceremony at MIA. The representative consulates from each awarded artist honored this cultural event with their presence and participation.
The Director of Protocol and International affairs division at the Miami International Airport, Mr. Desmond Alufohai, along with Biennale Wynwwod directive gave the welcome to respective consuls attending the ceremony.
The consuls Ms. Regina Aruachan & Camilo Andres Rubiano handed the trophy to the artist Miguel Aya from Colombia.
The Consul Ricardo Gaitan and the Consul's administrative chief Ms. Vivian R de Calderon handed the trophy to artist Maiyap from Panama
The Management assistant at the consulate General of the Kingdom of the Netherlands, Ms. Alexandra Castillo handed the trophy to artist Reinaldo Torres representing Holland.
The trophies for Sophia Kwak, Benedicte Blanc- Fontenille and Alejandro Szilagyi were handed by the Biennale Wynwood Judge Mr. Justo Vera and Directors Ms. Teresa Cabello & Ms. Ana Carolina Moreno.
For more information please visit the website www.biennalewynwood.com. Photo credits to Rolando del Campo @rollofilm
| | |
| --- | --- |
| Posted on 7 April, 2021 at 9:45 | |
THE NFT ART WORLD
What is NFT? It is simply a non-fungible token. Any artist can create an online artwork, tokenize it with a unique dash in the blockchain and keep that token as proof of copyright ownership. A blockchain is a transaction network that helps show who owns a given online asset.
A new art community of creators, online developers, and traders is pushing the art world into new era. It becomes more interesting when the online art marketplace started trading in non-fungible tokens, in cryptocurrencies on a blockchain platform. The blockchain ensures that the asset or NFT cannot be erased if a server goes down.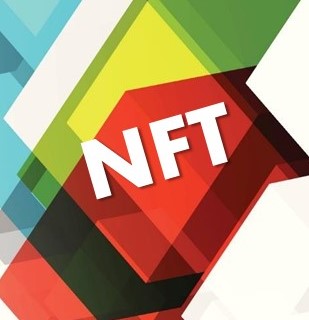 It all started in 2017 with Crypto Punks, a set of 10,000 randomly generated punks that proved demand for the digital ownership of non-physical items. The art market has evolved rapidly ever since then as the underlying develops, and artists are selling verified, immutable works of art.
Art lovers and collectors are waking up to the power of decentralized networks and currencies. With creators and collectors generating meaningful revenue through a entirely digital systems, the tokenization of gifs, memes, and MP4s is emerging as the most exciting and relevant blockchain use case.
Artists can always sell original artworks that are one of a kind; as well as book writers can still sign their books to make them more unique. In many ways, buying an NFT is like buying a limited-edition piece. An NFT is special and unique to the buyer but doesn't mean that the original work's copyright has been transferred.
NFTs have been around since at least 2017 when a company named Dapper Labs sold NFTs for digital cartoons. However, this recent NFTs boom is new and the courts have not even begun to address the legal and piracy issues this raises. The NFT mania exploded amid the pandemic as the world remained homebound and addicted to a screen.
| | |
| --- | --- |
| Posted on 19 March, 2021 at 18:25 | |
The last month of February the gallery Miart Space in Wynwood, Miami showcased an excellent show by artists with special abilities. This mandala's art show was open to the public from February 19th to March 1st 2021.
The exhibition showcased mandala artworks by artists with special abilities in the autism spectrum. The exhibition took place during pandemic following all CDC recommendation to avoid the virus spread.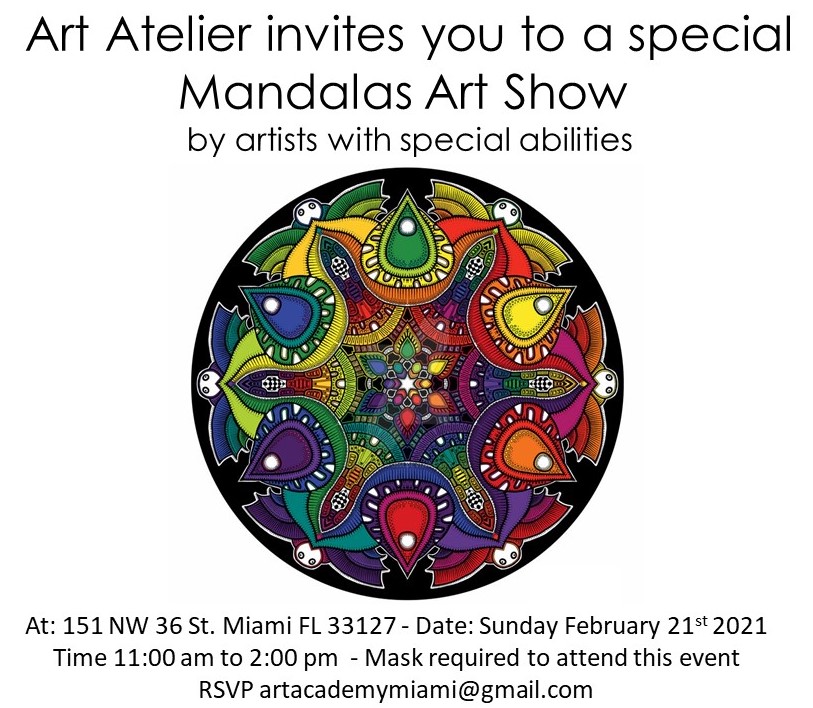 The talented artists in this art show were: Zain Naber, Isabela Herrera, Sebastian Herrera, Justin Dewit, Diego Gonzalez, Mireya Perez, Calvin Halwani, Andrea Pascual, Sofia Elias, Luis Guerrero, John Matthew Colona
The exhibition was transmited by the local Miami news TV in the segment Tomas Regalado 20/20. To see this interesting art interview to Ana Carolina Moreno by Major Tomas Regalado please visit:https://www.youtube.com/watch?v=ZOcl1KAQ-f0 ;
For more information on this show please email [email protected]

| | |
| --- | --- |
| Posted on 5 May, 2020 at 20:45 | |
The first edition of Biennale Wynwood will take place as soon as it is safe and when the pandemic's lock-down is lifted in Miami. The event will take place most likely at the end of Spring 2020 or beginning of Summer 2020.  
This exhibition reacts in response to the need of cultural enrichment in Wynwood and to frame the history of the neighborhood and communities' unique experiences.  The exhibition will take place every other year in Wynwood, the city's main art district. 

The exhibiting contemporary artists from various countries will represent the cultural diversity of their local community.  Active artists with relevant national and international backgrounds will be making important statements with impressive art displays. The initial opening date of April was postponed due to the pandemic measures and recommendations of CDC and governmental authorities.

Feel free to contact the biennale office for any inquire. The bilingual staff at BIENNALE WYNWOOD will be more than happy to assist you. 
Director: Architect Ana Carolina Moreno Curatorial advice: Architect /Museologist Maria Teresa Haiek Coll Coordinator: Ms. Teresa Cabello   
Visual Marketing Specialist: Artist/ Graphic Designer Gustavo Fernandez 
The 25 countries and its artists represented at this cultural event are as it follows:
1.   Argentina        Eva Castell
2.   Brazil           William Villanueva
3.   Cuba             Gustavo Fernandez, Rafael Consuegra
4.   Chile            Karen Schulze
5.   China            Hongmin Ji
6.   Colombia         Miguel Aya,  Jairo Romero
7.   Costa Rica       Andres Celis
8.   Ecuador          Fernando Toledo
9.   Egypt            Chirino-Said
10. France            Benedicte Blanc-Fontenille
11. Germany           Angelika Kade
12. Haiti             Jude Papaloko
13. Holland           Reinaldo Torres
14. Hungary           Alejandro Szilagyi
15. Israel            Dora Gabay
16. Italy             Filomena Petrucci, Daniela Bertolini
17. Mexico            Pablo Azar
18. Panama            MaiYap, Brian Vergara, Eliezer Martinez
19. Peru              Gabriel Juarez
20. South Korea       Sophia Kwak, Erion Cha, Choo Kyung
21. Spain             Villarroel Sierralta, Pamy Bendayan
22. Switzerland       Eric Wuersten
23. Uruguay           Veronika Beyhaut
24. USA               John Angee                
25. Venezuela         Carlos Tirado, Edo
URBAN & GRAFFITI ARTISTS: Diego Cardenas, Max Gutierrez, Israel Rincon
| | |
| --- | --- |
| Posted on 21 April, 2020 at 17:03 | |
Helmut Koller
, a painter known world-wide for his vibrant, festive, and beautiful paintings of animals. The 50th anniversary of Earth Day is this
Wednesday, April 22
. The featured artist for the month supports an environmental cause you care about, the endangered animals.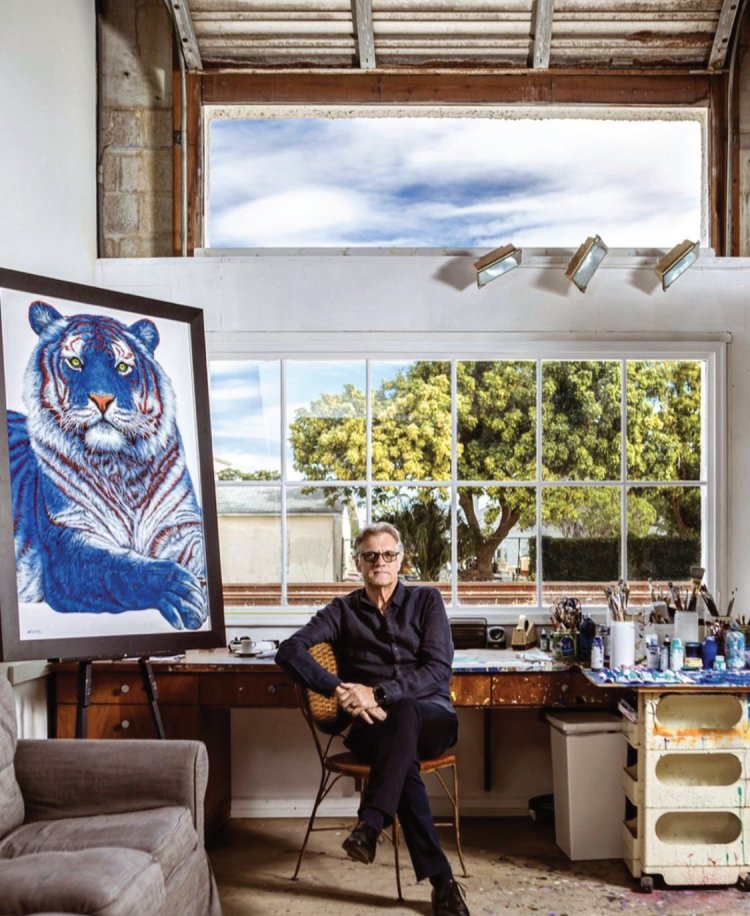 Helmut Koller stands out with his innovative take on animal art, especially the TIGERS. "These paintings are iconic portraits of sentient beings, supreme beauties without a reference of time and space, esoteric manipulations of nature," Koller explains. He brings a unique take on color never before seen on these exotic animals.  More importantly he cares for the well being of these magnificent creatures. 
Helmut in his sophisticated approach to these animals is simply a more elegant take on what's important and can certainly be credited as the real Tiger King in capturing the true essence of a tiger. 
Helmut Koller is mainly known for his colorful, bold and festive paintings of animals which are collected on four continents, America, Europe, Asia and Africa. Koller grew up in the beautiful Austrian countryside. After completing his training as a photographer and a brief professional detour to Germany he became the official photographer for the Vienna State Opera back home in Austria.  
Feeling confined in Europe and eager for the ambition of America, Koller moved to Manhattan then Palm Beach, Florida where he now resides.  In 1987, with his first collection of paintings, "Homage to Egon Schiele", Koller made the transition from photography to painting. The artist then turned his interest to historic portraits of the Native Americans. Figurative paintings in acrylic on canvas followed. 
Since the beginning of 1997 Koller is working on a series of colorful animal paintings.  In summer 1998, Suppan Galerie in Vienna, Austria, showed these new paintings for the very first time at an exhibition. Galleria di Sorrento at Caesars Palace in Las Vegas premiered these super realistic "new pop" paintings in the United States in the summer 1999.  Until 2016, Galerie Dumonteil in Paris, Shanghai and New York, represented Koller's art work and exhibited his paintings at major international art fairs. Nowadays the rich and colorful world of Helmut Koller, appeals to collectors on four continents.
Helmut Koller, the perfect artist to feature during for earth week

#kollerism
| | |
| --- | --- |
| Posted on 26 March, 2020 at 11:53 | |
Art Basel Cancels Hong Kong mayor exhibition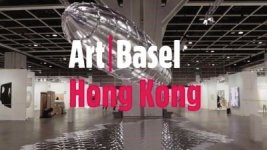 Art Basel announces the cancellation of its fair in Hong Kong due to the outbreak and spread of the new coronavirus. 
Art Basel Hong Kong was scheduled to take place at the Hong Kong Convention and Exhibition Centre (HKCEC) from March 19 to March 21, 2020.
 Following the severe outbreak of the novel coronavirus, which has recently been declared a global health emergency by the World Health Organization, Art Basel has no option but to cancel the upcoming edition of Art Basel Hong Kong.
 Numerous factors informed this decision, including: fundamental concern for the health and safety of all those working at and attending the fair; the severe logistical challenges facing the build-out and transit of artwork to the show; and the escalating difficulties complicating international travel, all arising as a result of the outbreak of the coronavirus. 
| | |
| --- | --- |
| Posted on 17 July, 2019 at 19:06 | |
This coming September 2019, Galerie La Spirale in the Kingdom of Belgium will showcase the artworks of a selected group of contemporary artists. This exhibition is part of a VIP gallery tour that starts in Belgium and ends in Miami, United States of America. 
A cultural exchange at a gallery level, showcasing artists with a strong background in arts and promote ART as a universal language.  This is a cultural exchange opening to the public as an enrichment activity for the community.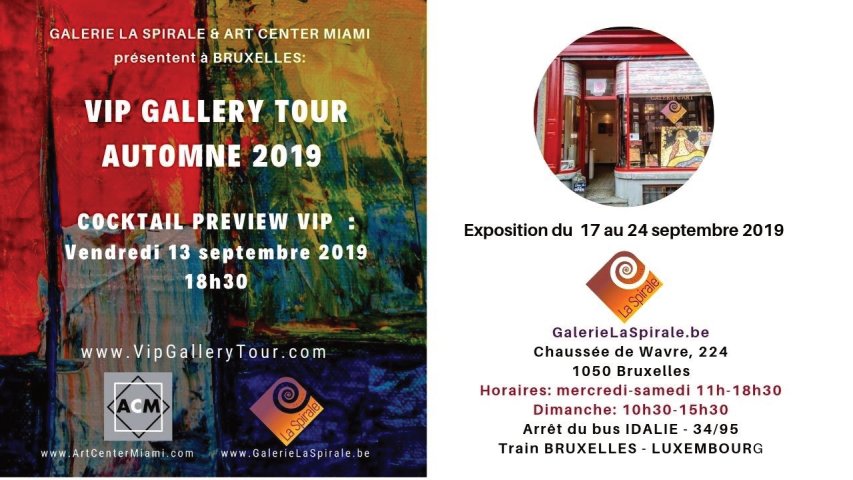 The vip gallery tour started six years ago in 2013 as an intercultural gallery exchange between Belgium and United States. Galerie La Spirale & Art Center Miami present an international juried gallery show in two magnificent cities: Brussels & Miami. 
The dates of this international exhibition for autumn are as it follows:
Vip opening preview in Brussels on Friday September 13th 2019 at 18:30 hours, at Galerie La Spirale Chausee de Wavree 224- 1050 Brussels.
Vip opening in Miami on Thursday October 3rd 2019 at Art Center Miami 151 NW 36 St. Miami FL 33127 at the Wynwood art District.
The talented participating artists in this collective exhibition are: 
Robert Augier, Marianella Antonetti, Freddy Trujillo, Francia Benavides, Kike Valderrama, Jose Varela
-- 
| | |
| --- | --- |
| Posted on 2 June, 2019 at 21:55 | |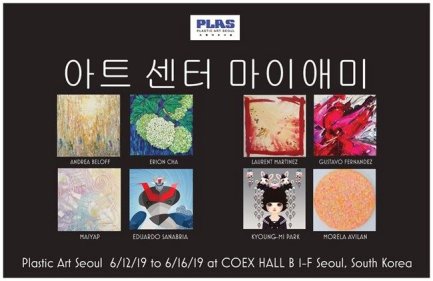 This month of June 2019 the intercultural center Art Center Miami will arrive to Seoul, Korea with a talented group of artists. The center is proud to participate in the exhibition PLAS that will take place from June 12th to 16th.
The fine art fair PLAS will take place at the convention center COEX of the city and Art Center Miami is proud to participate again.
The talented artists that will be displaying their artworks with Art Center Miami will be located in the booth G-30 and are as it follows:
Morela Avilan
Andrea Beloff
Erion Cha
Gustavo Fernandez
Laurent Martinez
Ana  C. Moreno
Kyoung-mi Park
Eduardo Sanabria
Mai Yap
Art Center Miami supports the cultural exchange among nations and believes that art has no frontiers. For more information please email
[email protected]
| | |
| --- | --- |
| Posted on 27 October, 2018 at 19:59 | |
This coming November 8th 2018, Shanghai Art Fair will take place once again with a selection of talented artists from all over the world. This fair is one of the most important art exhibitions that take place annually in the city of Shanghai, P.R. of China.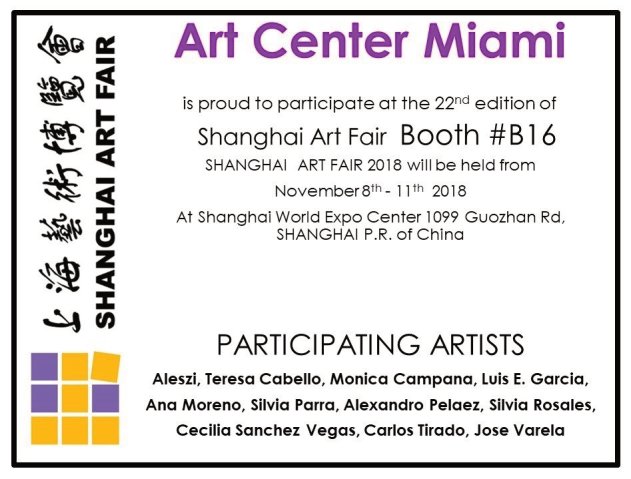 From Miami a talented group of artists will join the fair with Art Center Miami's booth. Each artist in his/her own style will represent Latin American art at the fair with four different medias: Paintings, graphic design, sculpture and photography.
These talented artists have many years of experience in the art industry and are experts in their own style. The artists were carefully selected by Art Center Miami and the director /architect Ana Carolina Moreno will be the liaison between Asia and America.
Art Center Miami has participated in over twenty art fairs and exhibitions in Asia with the strong believe that art has no frontiers. The mentioned artists participating at Shanghai Art Fair 2018 are as it follows:
Painters: Cecilia Sanchez Vegas, Silvia Rosales, Carlos Tirado, and Silvia Parra
Sculptors: Luis E. Garcia, Teresa Cabello and Aleszi (Alejandro Szilagyi)
Graphic designer the Iltalian / Venezuelan artist Monica Campana Montanarella
Photographers: Alexandro Pelaez and Jose Varela.
Shanghai Art Fair 2018(22nd), as Asia's celebrated art exchange with long history and high internationalization degree, will be grandly held from Nov.8-11 at Shanghai World EXPO Exhibition & Convention Center, continuing the scale as before, presenting domestic and overseas collectors a gorgeous art event in Shanghai as well.
Shanghai Art Fair, established in 1997, has been successfully held under the support of Saulterretimized art event, which not only bridged the gap between worldwide and Shanghai, public and art, but also shaped a paradigm for the domestic art fairs.
More than 20 countries and areas' art galleries, organizations, agencies participated in this lively art exchange during the past dozen years. For more information about this exhibition please email:
[email protected]
| | |
| --- | --- |
| Posted on 21 August, 2018 at 7:44 | |
Beijing International Art Expo will take place celebrating its 21 anniversary this coming August 30th 2018 until September 2nd. It will once again offer a gorgeous art feast to Chinese and foreign collectors. After more than 20 years of elaborated work, Beijing Art Fair has become the most comprehensive art exhibition in China with the largest volume and the trend of art development.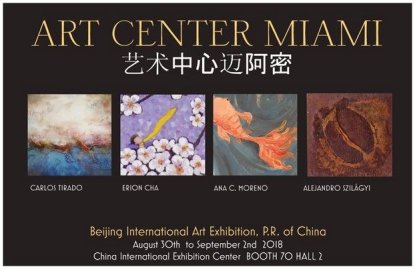 Art Center Miami returns to Asia with a selected group of contemporary artists to Beijing. Art Center Miami's artists Ana Moreno, Alejandro Szilagyi, Carlos Tirado & Erion Cha will bring to this exhibition their specially elaborated artworks. A combination of medias and materials in their artworks will delight the attending art lovers at Beijing Intl Art Expo.
Beijing Intl Art Expo has established the most extensive and efficient communication platform among galleries, art institutions and collectors; it has become the oldest, highest specification, the most popular, and the most influential artistic brand event in Beijing.
For more information on the artists representing Art Center Miami please visit www.artcentermiami.com
/