Follow the best art news, events, galleries & artists
| | |
| --- | --- |
| Posted on 26 April, 2021 at 14:55 | |
PRESS RELEASE
BIENNALE WYNWOOD FIRST EDITION AWARD CEREMONY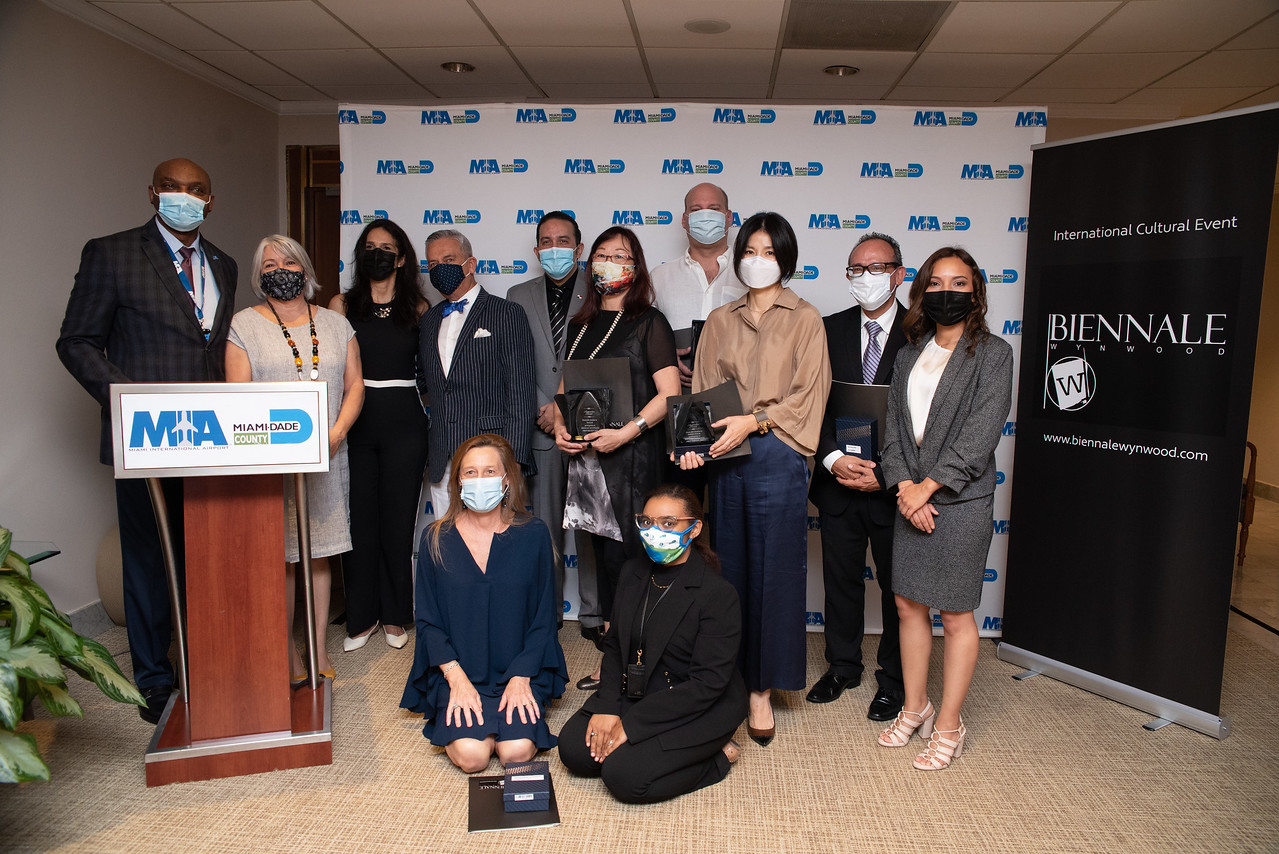 Biennale Wynwood held the first edition Award Ceremony last Tuesday, April 20th, 2021 at 2:00 PM in the Consular Lounge at Miami International Airport. Artists and its diplomatic representatives from Colombia, Panama, Holland, Hungary, France, and South Korea were invited to the ceremony.
It was a source of great satisfaction for the Biennale Wynwood committee and for the artistic and cultural sectors of Miami Dade county to have distinguished diplomatic presence in the award ceremony at MIA. The representative consulates from each awarded artist honored this cultural event with their presence and participation.
The Director of Protocol and International affairs division at the Miami International Airport, Mr. Desmond Alufohai, along with Biennale Wynwwod directive gave the welcome to respective consuls attending the ceremony.
The consuls Ms. Regina Aruachan & Camilo Andres Rubiano handed the trophy to the artist Miguel Aya from Colombia.
The Consul Ricardo Gaitan and the Consul's administrative chief Ms. Vivian R de Calderon handed the trophy to artist Maiyap from Panama
The Management assistant at the consulate General of the Kingdom of the Netherlands, Ms. Alexandra Castillo handed the trophy to artist Reinaldo Torres representing Holland.
The trophies for Sophia Kwak, Benedicte Blanc- Fontenille and Alejandro Szilagyi were handed by the Biennale Wynwood Judge Mr. Justo Vera and Directors Ms. Teresa Cabello & Ms. Ana Carolina Moreno.
For more information please visit the website www.biennalewynwood.com. Photo credits to Rolando del Campo @rollofilm
Categories: Art around the Globe
/